Even when the captain is about to leave Sir Alex Ferguson vacant, he will not give Cristiano Ronaldo when he is at MU.
MU in the years when Cristiano Ronaldo reached the peak of his performance became a team that could dispute all titles, and sometimes Ronaldo's influence on the team was too great.
But Sir
Alex Ferguson
ultimately did not allow Ronaldo to be captain, even if the captain's armband could be vacant.
Ronaldo was not assigned to the captaincy at
United
although Gary Neville had asked for it
Many people will probably think because MU has more veterans then, from Ferdinand, Vidic, Evra to Carrick, Giggs and Van der Sar.
But the truth is not so, Sir Alex Ferguson thought Ronaldo was big enough to become captain, but he saw in that decision a potential danger.
Former former captain Gary Neville revealed this in a recent interview.
Neville spent 5 years as captain at
Old Trafford
, but at the end of his career, he was injured and therefore did not play much.
Neville decided to hand over the captain's armband to choose a new one.
"I got injured just a year after I became captain and it became very difficult," Neville told Sky Sports.
"In the last 4 years, I felt that I was unable to contribute anything to my role."
"In the third year, I decided to go to meet Sir Alex before the season and asked to hand over the captaincy.
At that time, the team had a great team, many individuals who were big enough to take on this heavy role.
I say I am no longer worthy and this team is at a level where I no longer have the strength to do an important part.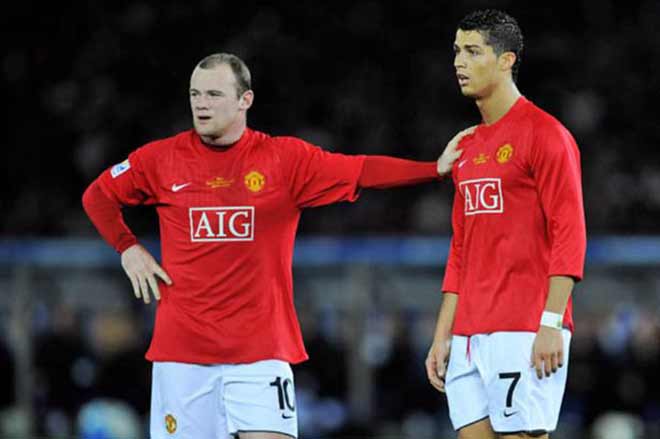 Sir Alex decided not to hand over to Ronaldo to avoid conflicts between him and Rooney
"He said, 'keep that armband, son.
You and Giggs will take turns.
If I give it to Ronaldo then Rooney causes trouble, if I give it to Rooney then Ronaldo causes trouble, and if I give to Vidic then Ferdinand causes trouble. '
And in the end Giggs and I kept the captain's armband for 3-4 years simply because we wanted to keep the dressing room peaceful. "
"He sees us as police officers, or senior officials of the dressing room.
Sir Alex has always maintained a collective interest at the forefront, even though I feel unworthy of the captaincy. "